Stories to be told.
The old dame strode in with grace and force of a thunderstorm showing it's teeth.
You could say 'fire came from her daffodil dress'.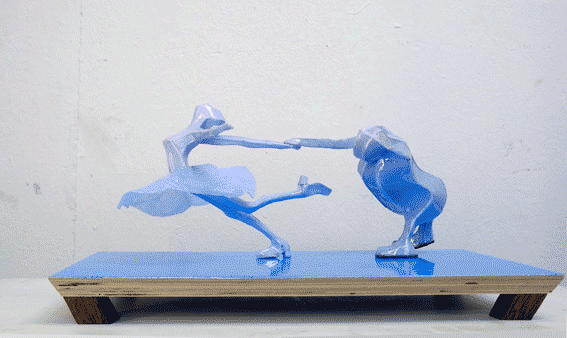 He looked like a bag of patatoes, but he could dance like Hell.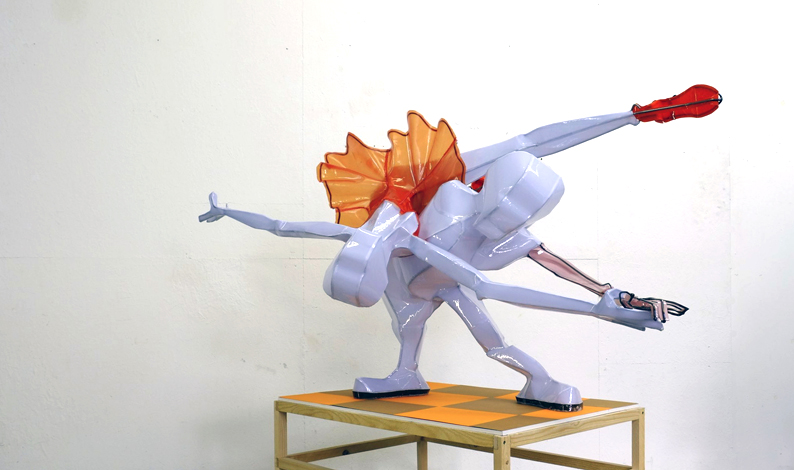 An old wrestler telling a Great Dane how to behave.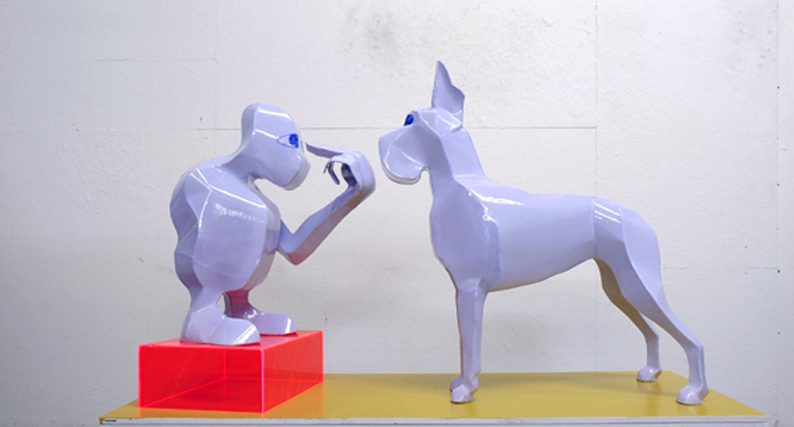 Mme George, Durgerdammerdijk Tavern.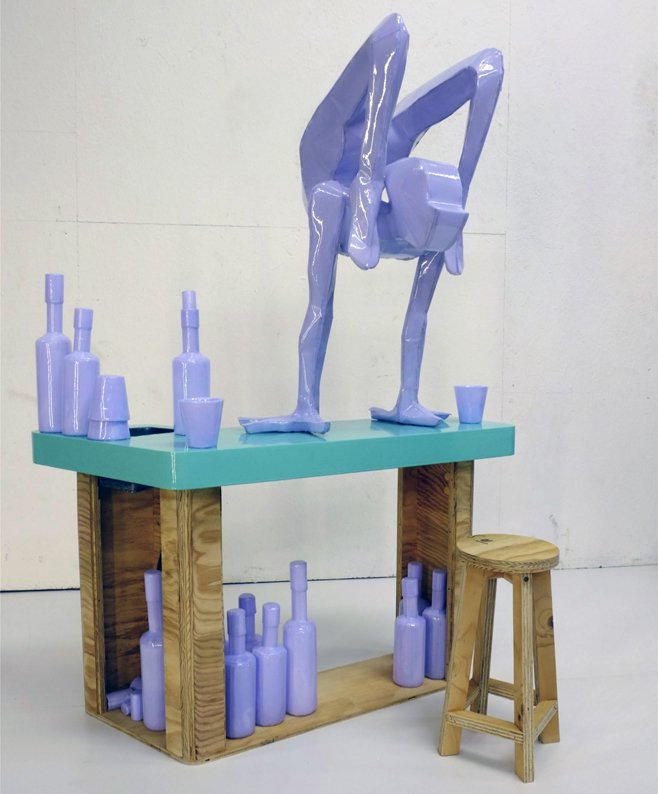 The New Fourth Plinth Proposal.
Het Verhaal Van Patat-kop.
De Gladde Verkoper (met de nieuwe 1066BW).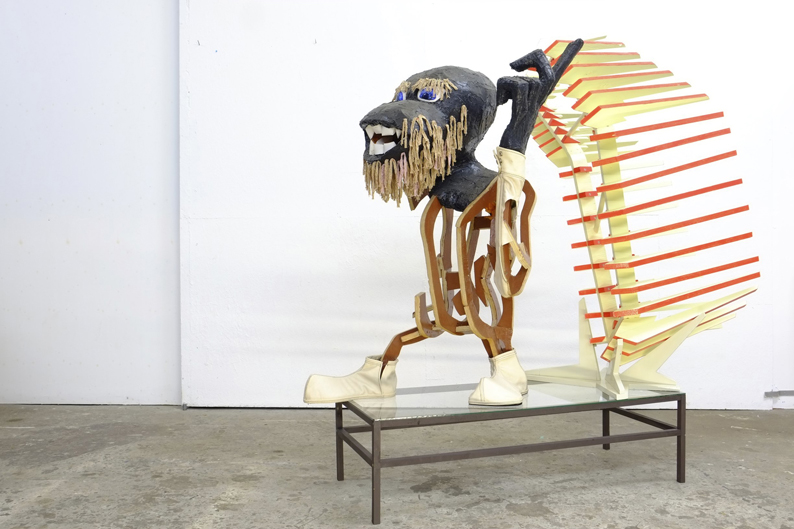 Milo & Moos (Death and Disaster / Rampspoed series; 7058).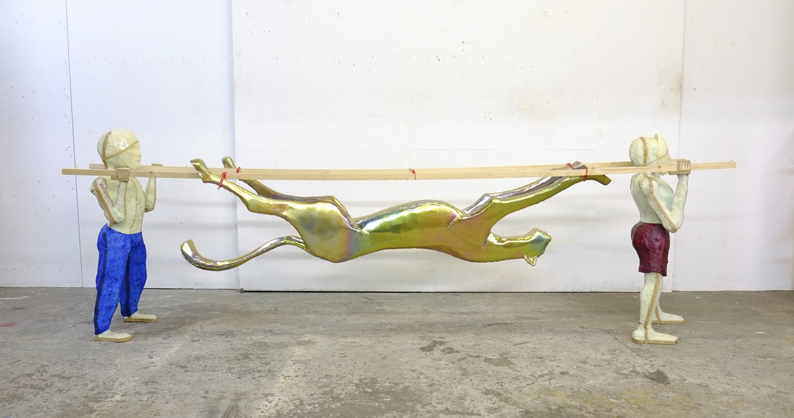 Voiloxy's Pose.
12 marching man observed by Voiloxy (the birdman of the story) . The snaredrum is playing the march.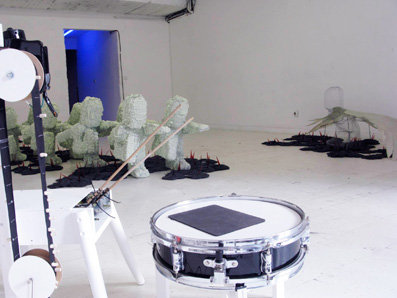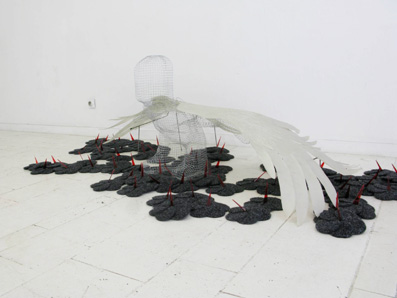 De wisse tweeling.

Ik zie u ook graag (en zes reserve buizen).
C.no.10 CH-9.
Installation Cno.10 CH-9, Toneelschuur Haarlem, on invitation by Nieuwe Vide, Haarlem, 2009.
A three dimensional line drawing of a Cabin and seven dogs (10 x 25 mtr) .


C.no.10. stm1.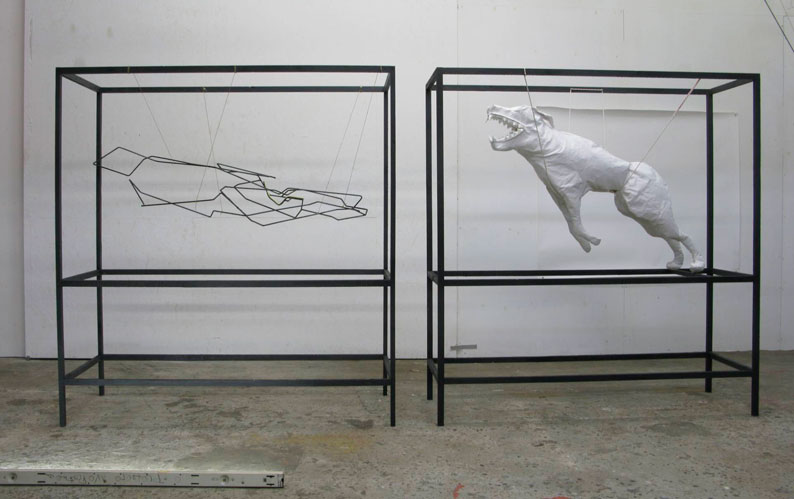 V voor Psycho.

The photo composition above shows the site specific installation 'food for thought'. On the right side is a closeup.
The visitor is invited to take a seat opposite a character on the table and have an exchange of thoughts. The installation was made in 2008 for the salon in the farmhouse RoodNoot, Utrecht; on invitation by theatre company De Maan.
Prendre des poses.
Rocket no. 17 (and how the rocketeer caught a hare).
My first installation of a short story is 'Rocket no. 17 (and how the rocketeer caught a hare)'. On display is a rocket with a sidecar on which a hare is strapped. In the same room are 8 hares, each one in a 'still' position of an ongoing movement. The hare is in gallop, then gets shot and crushes on the earth. The hare is then collected and taken by the rocketeer as a trophy. But feel free to have a different version of this story.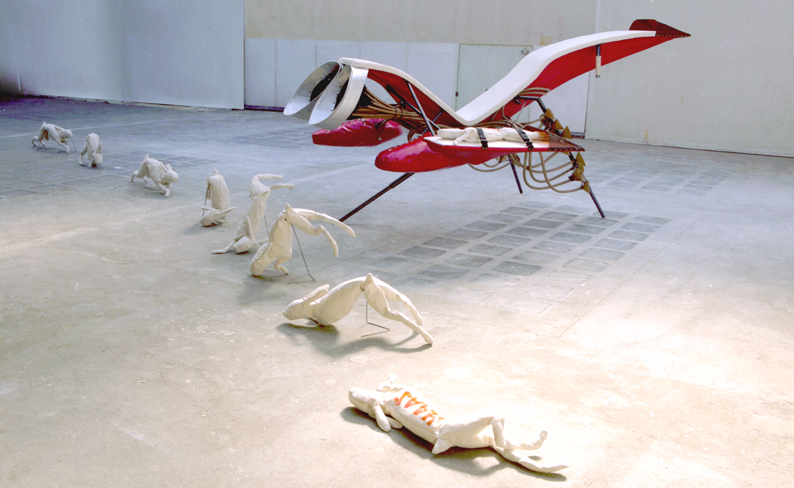 Checking the ground while hanging from my hatch.
'Checking the ground while hanging from my hatch' is a 3D installation.
I've made two scale models before the real size piece was made for a show at Participant inc. New York.
The work shows a section of a vehicle and the frozen action of a rocketeer who is testing the conditions of the soil where he wants to go and stand on. He is almost pressing with his index finger on the surface below while hanging on the exit of the vehicle.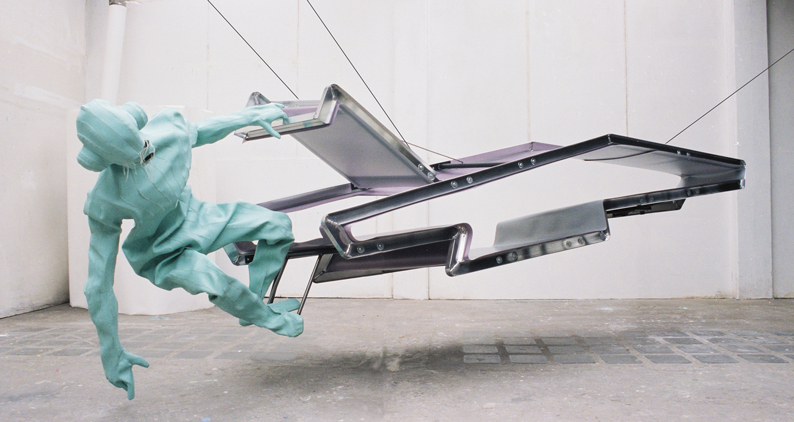 Rocket no. 18 and surrroundings.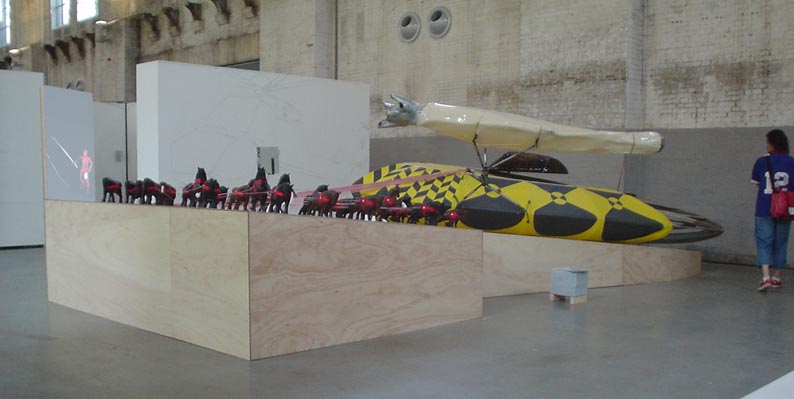 Another installation is 'Rocket no. 18 and around'. About 50 heavy working horses are pulling a vehicle (R no. 18) up an inclined plane; the rocketeer by the name of 'de Zweeper' (a video projection), is whipping fearsome over the horses to get them going. The whipping is heard like thunder in slow motion. Probably the vehicle broke down and has to be brought to some other location. 'De zweeper' has rounded up the horses for the job. And a tough job it is as can be seen for some of the horses are rearing up.
Death and disaster
is a miniature. Bits an pieces are all over the place, we can recognize the carcass of a Jaguar; one person standing and if you observe closely a grave. Enough input to create a variation of short stories.
Close to twilight on the northern hillside.
For RC de Ruimte I created a site specific installation on their tilled roof of the building. The installation is called 'close to twilicht on the northern hillside'. I never build something for an outside environment, so first hesitated to accept the invitation. I was afraid that the environment was to aggressive for the materials I normally use. The hesitation is gone now, it was an enrichment to feel an extra dimension added by nature, water wind and light; which presented an ever changing scenery. A delight! Displayed is a mountain climber near to his castle, close by is another figure 'Houtman' with stretched arm he's holding a dead cheetah, by his feet is death looking you in the eye. This is a tough one to make up a story by considering the strange elements which hardly have any relation, but there is a challenge, go for it.
.